Full Day - 16' Inflatable Fishing boat w/ 9.9 HP motor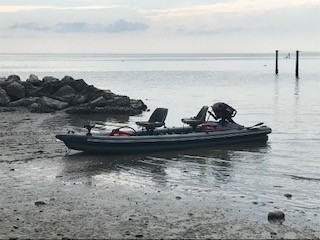 Location: Cape Charles, VA
Product code: Full DAY 9.9 hp Inflatable
Cancellation Policy:
48 hours notice is required for a refund
Incase of a small craft advisory the day of rental, the manager may make the determinization to not let the boats go out for safety. if this happens you can either choose to switch days or get a refund.
Check in:
you will be required to check in at the Beach Rental Shop. during check in you will need to sign your rental agreement, go over safety procedures and inspect your boat with a dockhand before you leave the dock.
Check Out:
you will be required to go over your boat with a dockhand to confirm there are no damages.
Safety:
all of our boats are equipped with the following, Proper sized life jackets, floatation device, anchor, oar & whistle. we also require you to stay within the boundary map that is provided at check in. This boat seats a maximum of 2 people or 525 Lbs.
Amenities:
This boat is fully licensed to recreational fish or crab on.